Bad Parenting Confessional : The glowing box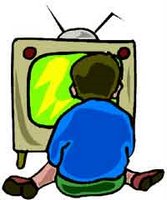 Since some people are willing to advertise their
caving on shopping haughtiness
I suppose I should come clean about the change of parenting politic over here.
With the advent of the lunacy of solo parent care of the child duo I have had to rethink my attitude about the glowing box. I believe
the household relationship with TV
is clear. We don't, didn't, have it on and we don't care how much money we are wasting on cable. Since being home with the two I have worked up a bit of
a toolkit
and I can now see where TV fits.
It is to protect the innocent. My plants, the cats, the woven placements that I would rather were not unwoven. Sometimes in the second half hour I need to get out of the house I can use a
Little Bear
to help me ensure I don't get the announcement. 'I draw in your bed!' Sometimes I can see at the age of two it doesn't kill her identity to tune out at 4pm when we are getting testy with one another.
Still, not all shows seem to be created equal. So far I have only used television, not dvd/videos. I wonder who is worth investing in? I actually can see some of the really junior TV connects in a way with her that any old cartoon can't necessarily. The Little Bear stuff makes her laugh out loud and she will sort of interact with it; afterwards, she role plays the characters sometimes. I can see that TV can spark the imagination when applied correctly.
What programs can you recommend for the two-year old?
I actually fear modern Sesame Street sometimes. That smart woman at
Crunchy Carpets
alerted me to a recent work on
the evils of Elmo
and I am now even more afraid. But
like others
we love the Grover, so the Street is sort of a no brainer. (I think sometimes I married p-man because he does the world's best Kermit impression. You know what a turn on that can be.)
What about the new stuff? What is this Blues Clues anyway? And, who is willing to let that snot nosed mouthy Caillou into their house? Will I regret it?
Labels: confessional