Step Away From the List, Sir
As a general-comment-to-nobody-in-particular I love Night Ranger, and if they had existed, I would doubtless put an album of theirs on my list.
I have, in the course of purchasing the albums I possess, attempted to find distinctive and unique works of art the maddening crowds of MOR-programmed morons were too stupid to ever notice. I have, in the course of attempting to achieve this end, failed entirely. I am too white-bread, too waspish, to vanilla (sorry, Mo) to possess the aural adventurism of some. So what. I now begin to identify albums I really enjoy and even get a bit warm over. Numbers 56-43.
56. VELVET UNDERGROUND White Light/White Heat (1968)
I read a Lou Reed interview where he complained that when VU played in LA people kind of scoffed and looked at them like they were 'dirty'. I maintain the crowds were incredulous that a band this bad (technically) could get financial backing to tour.
This record is muddy and foul. It is a gutter on vinyl. I love it.
55. GONG You (1974)
This is a part of a bong-powered trilogy produced between 1973 and 1975 and featuring STEVE HILLAGE! The subject matter of the lyrics appears to be gnomes, flying teapots, and trying too hard to fit the hippie mold. That said, the drum major was very major, and it is clear this band rehearsed a fair bit, between fungus-induced comas and chakra-counting bees.
54. JIMMY CLIFF The Harder They Come (1972)
Not really a Cliff album but a soundtrack to a gritty move set in, I forget, Turks & Caicos… somewhere really hot, where people still own sweaters. Not much to say about it other than I am no fan of Marley, or of the genre as known to me, but this record contains some beautiful raw sounds which thrill me.
53. COUNT BASIE & HIS ORCHESTRA Straight Ahead (1968)
Big.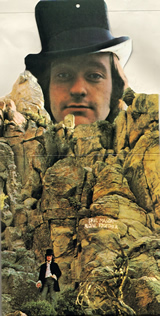 52. DAVE MASON Alone Together (1970)
The second appearance by Mr. Mason, and his penultimate appearance, insofar as this list is concerned. This album also represents the first of three appearances on this list by an apparent casualty of rock excess, in this case, a schizophrenic matricidal drummer, I think, or maybe Jim Keltner. (In any event, that came later, after the good times were gone.) The backing band on this record was everywhere: George Harrison's debut, Clapton's debut, Mad Dogs and Englishmen, Delaney and Bonnie. They had something going on. On going. Going. (Damn you, MD!)
When Mr. Mason got it right, he got it right. Here, he got it right most of the time. If you can overlook the youmeyoumemeyoumeyoume youyouyou mememe lyrics you may enjoy this one.
51. RADIOHEAD The Bends (1995)
Everybody's talked this band to death. Whatever.
50. INTERPOL Antics (2005)
Well-crafted pop from a member of (what I will call for no reasoned basis) the "New York School of Limited-Range Singers". This cd has grown on m like a genital wart. At some point I will have to see a doctor. The top 50 get noted for my favourite song, if I have one, from the album. Here: Evil.
49. FRANZ FERDINAND (2004)
White crunk? Never has an archduke sounded so appealing to me. More guitar - more! Perhaps this betrays my lameness but this record has a frenzied sound which makes me want to ride a bike off a wall. But first I will hire a plaintiff's lawyer… Franz Ferdinand made me ride a bike from a wall. Franz Ferdinand punctured my duodenum. Give me money, Franz Ferdinand. As far as I am aware, this is the only album both Kanye West and I enjoy. FS: The Dark of the Matinee.
48. SHUGGIE OTIS Information Inspiration (1973)
I like this record so much I made it #48 on my list. Kind of, um, weird, but earnest. FS: Aht Uh Mi Hed.
47. SONNY ROLLINS Saxophone Colussus (1956)
Big man, heavy band. Mr. Rollins has a warm and powerful tone. Max Roach has eight arms. Give me some sugar, baby. FS: St. Thomas.
46. JIMI HENDRIX EXPERIENCE Electric Ladyland (1968)
Boy, is this guy overrated or what? Apparently Mr. Hendrix dabbled in psychedelics. You wouldn't know if from listening to this album. Bubblegum. (I am treating this entry and #59 as two acts with one guy in common. One notable guy in common. My list!) Dave Mason's final appearance on this list for those of you who read liner notes. FS: Long Hot Summer Night.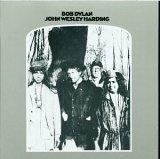 45. BOB DYLAN John Wesley Harding (1967)
Really I just wanted "All Along the Watchtower" listed twice in succession. If only the Buggles had done that song, then, thrice! In any event, this is the only Dylan record I own which does not annoy me. The prose, or poetry, or what have you, it is not so purple. FS: Down Along the Cove.
44. THE QUINTET Jazz at Massey Hall(1953)
Charlie Parker, Bud Powell, Dizzy Gillespie, Max Roach, Charlie Mingus…these guys could've played Rick Astley's Greatest Hits instead of the tunes they did play on this one-time-only gig and I would still think kindly of them. Bop until you drop. FS: Salt Peanuts.
43. ROBERT WYATT Rock Bottom (1974)
This guy drummed with Soft Machine and I nominated a song of his as one of the worst songs ever. I know what I've said about the Soft Machine but this isn't them.
Wyatt wrote this album not long after a fall from a window rendered him paraplegic. (This impaired his drumming to no small extent.) This is a harrowing, beautiful, and distinct work. FS: Sea Song.