Are We There Yet?
(Or maybe the next installment of the P-man "Not Ready for Your Ears Only" top 100 favourite records of all time today, with no obligation, shipping & handling included, E&OE.)
First, I would like to note the passing of a musician. There, he just drove by in a rusty Tercel. I refer, actually, to Arthur Lee. Mr. Lee died August 3, 2006 in Memphis and you can read about him
here
. I cannot overstate the influence of this guy's band has had on me at various times in my life. This is not to say it was a good influence.
Anon, to the list. Numbers 69-57:
69. ELVIS COSTELLO AND THE ATTRACTIONS This Year's Model (1978)
I have no idea why I may have enjoyed the music of an angry, bespectacled, white english-speaking musician because I have not been nor shall I ever be any of those things. Oh, wait, I am those things... energetic and articulate white boy rants. Maybe a slight bit tedious or self-serious, I can't say. Too many words but nonetheless it is on the list. This is my list. I am welcome to it and so is EC(2).
68. CHARLES LLOYD Forest Flower (1966)
Dudes, we are searching for the spiritual in and through music. Load that bong with god, man, and strike the match of heavenly intentions... this jazz may be a little too 'free' in places but this band swings hard and kicks ass, in a groovy, spiritual, and healing way.
67. BUFFALO SPRINGFIELD Again (1967)
As opposed to "Steven Stills, Still". (Why must the world suffer so?) Here is the album Stills, Furay, and Young made before they became, in turn, self parody, ultra-Christian (not that there is anything wrong in so doing after years of free love... the bastard), and boring. A patchy album of solo brain buds made before (or during) the bass player's deportation to the evil north and I recommend it if you wonder what these later-famous people sounded like when they weren't fat, rich, or boring (In some cases. I have no idea if the drummer ever got a dime from the rock and roll thing.).
66. (RAHSAAN) ROLAND KIRK Rip Rig and Panic (1965)
Fuck Kenny G.
65. THE STROKES Is This It (2001)
Having heard what followed this debut album I'd say the answer is "YES". Nonetheless, a nice pop album reminiscent of some kind of late-70's early 80's new wave thing but without synth players whose hair should, by the laws of physics, be so heavy as to snap their pencilly necks. That's not what this record is about. It is about counting to 4 and drinking until you can't count to 4, and your dad has to send the limo to get you. This album is not on the list due to its technical merit.
Call me a sucker for any record with fractals on the cover (go on!) but I like this one. It's fun. Not pre-programmed fun, but calculated, post-adolescent fun. I think. (Maybe it is programmed to sound loose. But why bother?)
64. MOGWAI Happy Songs for Happy people (2003)
The title is a trifle misleading.
63. TRAFFIC (1968)
This record bears no relation to the fey psychedelia of its predecessor. It sounds like it was recorded in a bog. I love it and I wish this lineup had done more together. Like all decent records (in my opinion, and did I mention maybe 63 times already this is my list, so I get to come up with the hare-brained theories? Because I do.) there is a fair bit of tension captured in the grooves.
62. HOWLIN' WOLF The London Howlin' WolfSessions (1971)
This is not a lame attempt to get Charlie Watts on this list twice. This is an effort to say: listen to this album. Things will become clearer. The backing band, comprised of a bunch of no-names, acquits itself well. Hubert Sumlin is as he was. Tasty.
61. CHARLES MINGUS Mingus Ah-Um (1959)
I can't listen to this too often because it hurts my brain. This record should come with a warning label: Caution: Unless you are a professional Jazz Listener you must not consume this album in one sitting. I don't know what Mingus was doing but it seems like exercise to me to hear it all while it's happening. It sounds like freedom and insanity to me. I love it a little.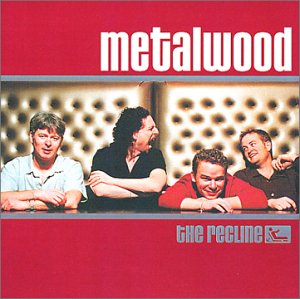 60. METALWOOD The Recline (2002)
Some suggest these guys may be the inheritors of the fusion movement. I'd agree, or disagree, if I knew what that meant. I have seen these guys a few times, playing in stinky little bars and larger rooms, and they give the same nasty groove. This is a jam band made up of people who can jam and leave the noodles at home. In short they are not Phish, String Cheese Incident, Widespread Panic, or Grateful Dead (now I may be persuaded as to the merits of the first 3 named acts, but everything I've heard sounds so watery and lame that they all remind me of the last-named act referred to in this now paragraph-length aside. I must find an editor who will work for free and who enjoys being hectored.). Unlike some jam bands all of the people in this band can play their instruments and can do so without causing themselves or others to suffer headaches.
59. BAND OF GYPSYS (1970)
I curse the spelling but enjoy the heavy sound this band produced. You either like it, or you hate it, and if you haven't heard it you probably should not bother. I don't know why Hendrix' name is on the cover. This is a Buddy Miles album, from before he
became a raisin
.
58. CAKE Fashion Nugget (1996)
An unusual feature of this cd is that when I listen to it I want to wear a hat everywhere including indoors.
57. CAPTAIN BEEFHEART AND HIS MAGIC BAND Safe as Milk (1967)
My favourite Beefheart album is "Shiny Beast (Bat Chain Puller)" but I lost that cd and held onto this one. I am pleased to report there are no obvious signs of musical deconstruction on this record. This is, hmm, remarkably like music, and it isn't boring, and the guy sounds like a short white Howlin' Wolf maybe, on a clear day, and for the most part I do not cringe at the lyrics. Ry Cooder plays on and arranged the songs, which could explain a few things, like why this isn't "Trout Mask Replica."
P-man out.